If you have been a user of NEO in the past you will, no doubt, notice many changes to the website. After many years (nearly 8!) we finally have a new look and have made several improvements to the navigation and functionality. That being said, much of the flow of the site is relatively unchanged. So let's take a look at a couple redesigned elements of the dataset view page, which is one of the main functions of the site. (See this example for the full view.)
Starting below the main image, you will see the ability to toggle between different variations of the dataset. These variations will differ depending on which dataset you are viewing and for many the "View by satellite" toggle will not be relevant. Clicking on any of these buttons will both change the image above and the calendar view below.

Image download options

Currently viewing: At the top of the download options block you will see the date of the image you are currently viewing. The date may be either a year, a month + year, a single day, or a date range, depending upon what dataset you are viewing.
Downloads: This is where you can choose the format, size, and color of the image you would like to download. Select the desired file type from the list (for more information about the types of files that are available, click on the "i" help button next to "Downloads"), whether you want the image in color, as you see it on the page, or in grayscale, which can be useful for applying your own color palettes. Once you have made those selections, click on the dimensions you want (e.g., 360 x 180) and you can download the image.
Download Raw Data: If the source data file for this particular dataset is available online there will be a direct link to it here. These files can be in a variety of formats and are hosted by various data providers, not by NEO. We can help point you to the data owners if you have questions but otherwise we cannot provide support for these types of data.
Calendar view
Depending upon the dataset you are viewing, you will see one of three different types of calendar views on the page (the daily view is shown below). Use the blue slider to navigate between the time periods in the given year and the "Select Year" drop-down just above the calendars to change the year. Blue links will change the image shown when clicked. The calendar menus greatly improve your ability to browse the entire collection by date. The old way was a nightmare, I know; thank you all for your patience.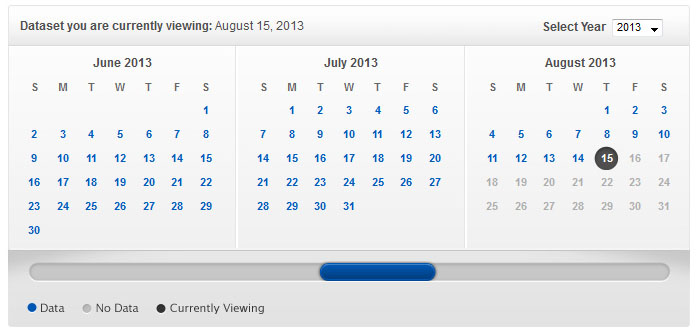 We hope that you like the new look of NEO and if you have any questions about the site please be sure to leave us a comment here or get in touch through our contact form.
Tags: how-to